A Fire Alarm system is an electronic equipment that detects a fire hazard at an early stage and warns people to take actions against it or evacuate the building.
The detection can be achieved automatically using a variety of sensors such as smoke, heat, multi-sensors and beam detectors or it can be achieved manually by activating call points placed in several positions in the premises. Occupants can be informed by audible sirens and visual indicators, which are also placed in key areas of the protected premises.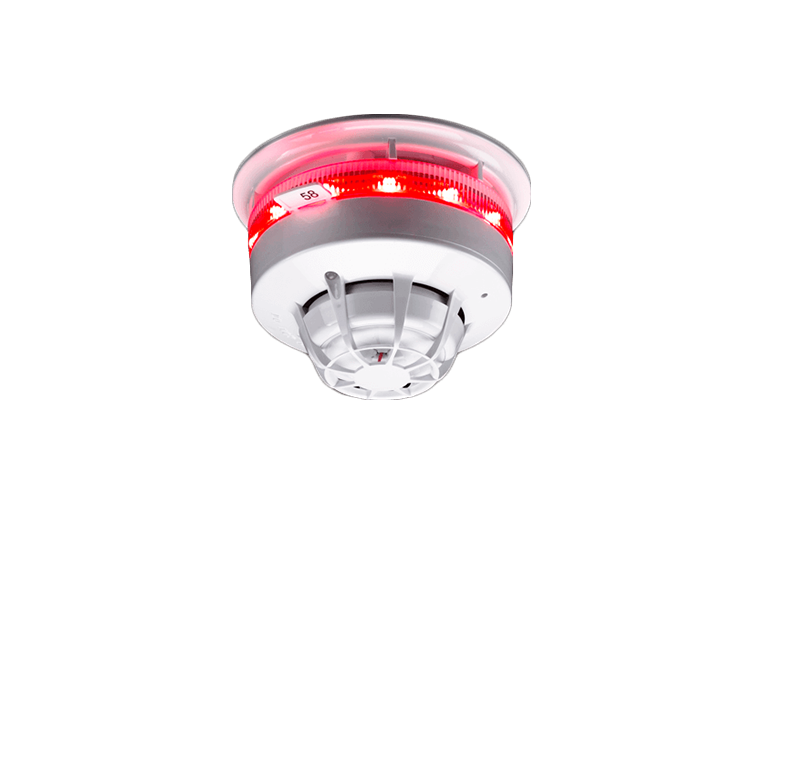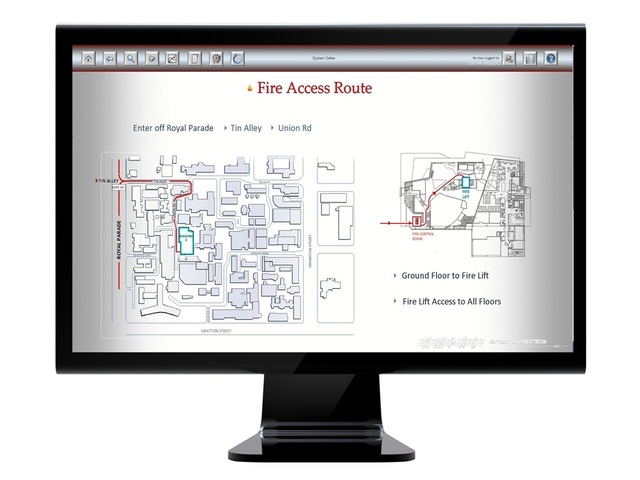 Keeper Security can design, install, commission and maintain any property with the latest technology of Fire Alarms in the industry. We partner with world leading brands such as Apollo, Ampac and Kidde to offer a comprehensive range of products, including conventional fire detection systems, addressable fire systems, wireless fire alarms and special equipment.
All of our engineers are accredited from the Fire Industry Association in the UK and have received all the necessary training from the manufacturers.
Conventional Fire Alarm Systems
Conventional fire alarms are ideal for small buildings, such as individual offices and retail shops and in general where the system is needed for protection of a property.
They can be set up in zones, with each zone hardwired to a control panel or zone expander. Up to 20 detectors can be connected in each zone, covering an area of up to 300 square meters. The advantage of Conventional fire alarm systems is that they are less expensive and are simple to install.
Key Features:
2 to 16 Zone versions available

Fully Approved by LPCB to EN54-2 & 4

False alarm management

Integral detector removal monitoring

Monitored sounder circuits

Test Mode including One Man Walk Test

Control Enabled via key switch or passcode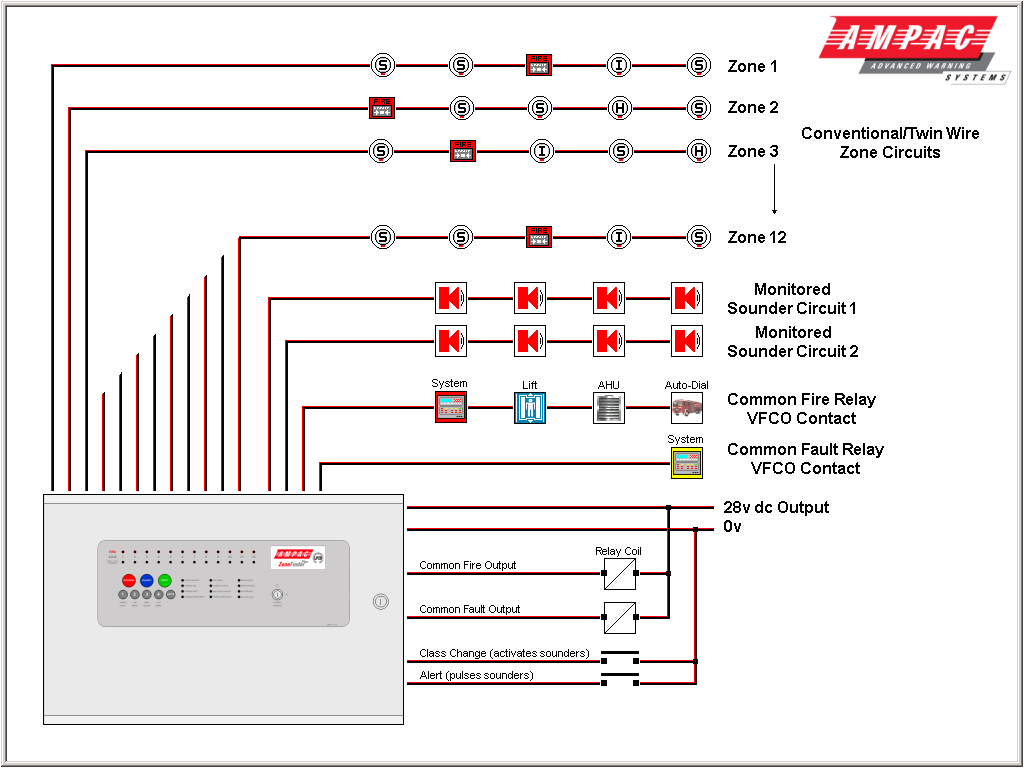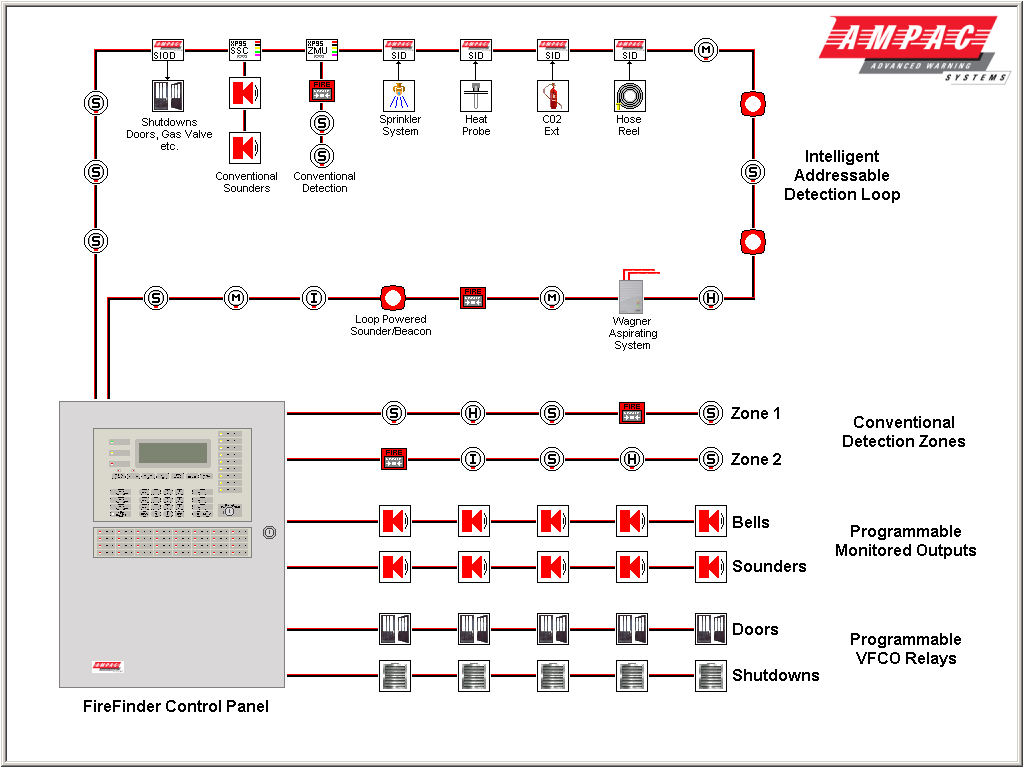 Addressable Fire Alarm Systems
Addressable fire alarm systems are intended for medium to complex projects such as hotels, multi-storey buildings, hospitals and generally where the premises are categorised as life protection premises. They are typically more expensive than conventional alarms, but the extra information they provide to fire fighters and building managers is invaluable. Addressable fire alarm systems show exactly which devices are activated, making it extremely easy to figure out either where there is a fire or, in the event of a false alarm, which specific device is having a problem. Another benefit of addressable fire alarms is that they require less cabling than conventional fire alarms. All of the devices installed as part of an addressable fire alarm system, connect to a single cabling loop that runs through the entire premises, allowing the addition of new devices to the existing system
Features:
8 loop panels each accommodating 126 sensors
Up to 100 panels can be linked together to operate as one system
Smart Terminal repeaters can be installed in security control rooms
Smart graphics capability
Connection with BMS Systems
Printed reports
More than 4000 events log
At Keeper Security we offer a huge variety of special hazard equipment that can fit any customer needs. These include:
Total Wireless or Hybrid Systems

Intrinsically safe equipment

Marine Equipment

Flame Detectors

Beam Detectors

Gas Detectors such Carbon monoxide and LPG